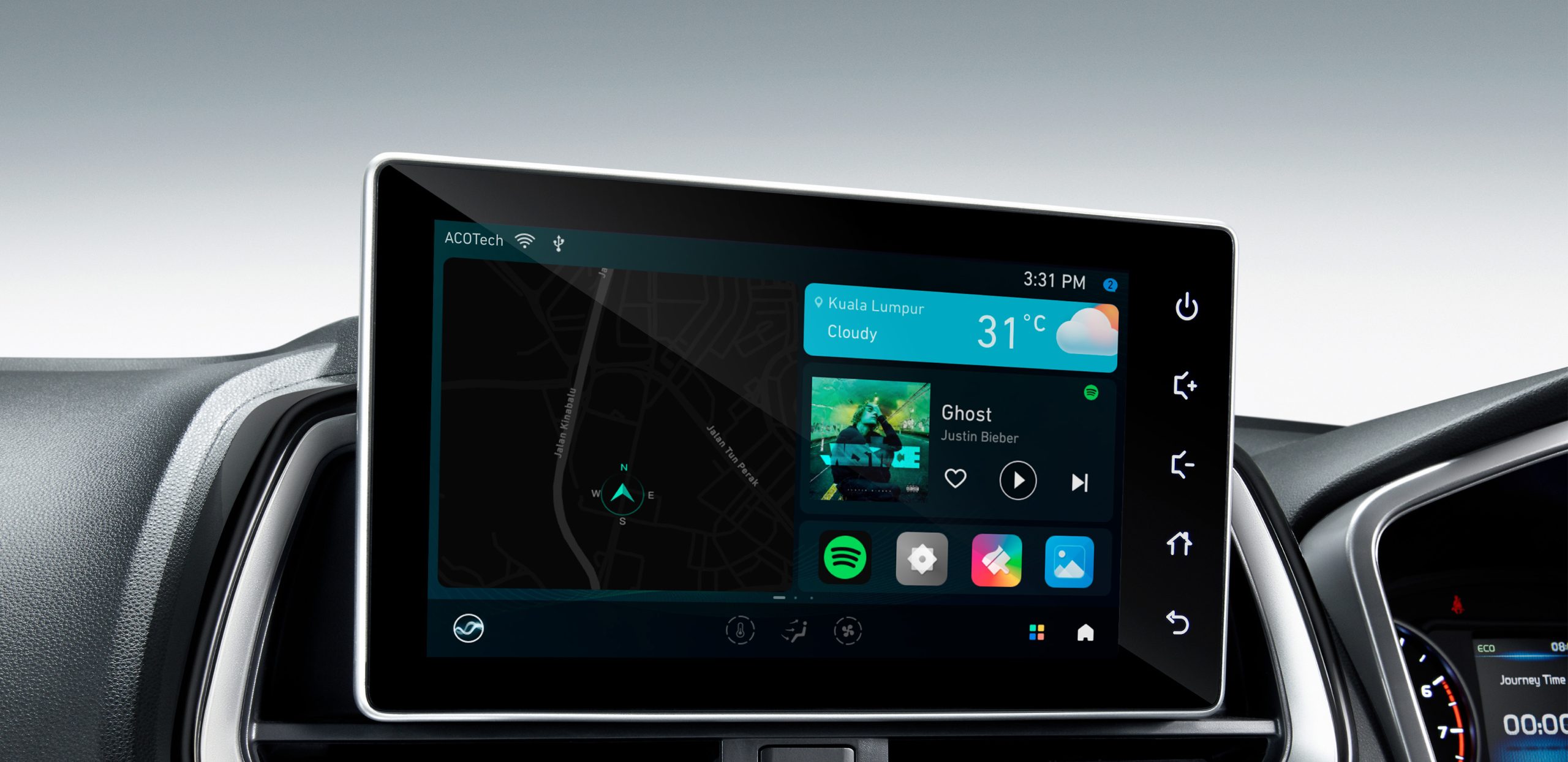 04 Jul

ACO TECH BRINGS SPOTIFY INTO ATLAS OPERATING SYSTEM
ACO TECH ENTERS INTO STRATEGIC PARTNERSHIPS TO FURTHER STRENGTHEN ATLAS USER EXPERIENCE
MALAYSIA, 4 JULY 2022 – ACO Tech, the leader of smart mobility provider in ASEAN, today announced their new partnership with Spotify – a collaboration that will see the world's most popular audio streaming subscription service being made available in the mass market car segment through the integration with ATLAS, an in-vehicle infotainment operating system developed by ACO Tech.
Following the collaboration, ATLAS end users will be able to enjoy personalised audio experiences from Spotify, both free and premium while they are driving, through their vehicle's Infotainment Head Unit (IHU):
Allows users to stay connected with over 82 million audio tracks and more than 4 million podcast titles.
Simply cast the content you are listening to on your mobile phone via Spotify Connect to the IHU or play it directly from the IHU to enjoy a seamless music experience wherever you go.
"I'm incredibly proud of the steady progress the team has achieved in introducing the capabilities of a humanised connected lifestyle to a wider public in Malaysia through meaningful brand collaborations. Working together with Spotify is an important milestone for ACO Tech as the partnership not only helps us to stay competitive in the smart mobility industry, it is also instrumental in easing Malaysians into the possibilities of smart and connected car technologies," said Mr. Li Pu, CEO of ACO Tech Sdn Bhd.
Wholly developed by the Malaysian team, ATLAS is an in-vehicle infotainment operating system supported by a complimentary mobile application named ATLAS Auto with features that prioritise mobility, convenience, and control. Specifically designed with personal experience in mind, the power of the system is tailored to meet the diverse demands and preferences of the Malaysian lifestyle.
The ATLAS Infotainment Head Unit (IHU) that runs on Android 8.0 and above, pre-loaded with Spotify, will make its debut in Malaysia in PROTON vehicles. The app can also be downloaded through the A store. For further information about ATLAS and Spotify, please visit https://acotech.my/
Note:
The availability of Spotify may differ by vehicle specification or require the installation of certain features in order to be fitted.